Are you finding a child's behaviour difficult to manage?
Are you looking for ways to support their emotional understanding?
Learn this step-by-step process to understand a child's behaviour and how to teach them to identify and regulate their emotions.
Often when your child experiences difficulties with behaviour and emotional regulation, it can be easy to become stressed and overwhelmed.
You may see your child become really frustrated or upset and this can lead to challenging behaviour such as hitting, kicking or dropping to the floor.
This is very distressing for your child, as well as for yourself.
Your child may be struggling with responding to their feelings and how to communicate this, which is why it's so important that you understand the reason behind the behaviour and how to help them regulate their emotions.
In this short course, I will teach you clear, proactive strategies and skills that will help your child's behaviour and support their emotional regulation development.
How will this course benefit me?

Learn how to identify why a child is behaving the way they are
Understanding the reason behind behaviour will enable you to put effective support strategies in place, that will really make a difference.

Learn strategies to help children recognise and respond to their emotions
Teach children helpful regulating strategies that will have a positive impact on their wellbeing and behaviour.

Feel confident in using a range of strategies without causing yourself stress
Confidently and consistently implement behaviour support strategies and help children to regulate their emotions.

Access Any Time
Complete the course at a time convenient for you. Our flexible, on-demand courses allow you to log in and complete the content as you go, plus you can revisit the content if needed!

Bitesize videos​
Each course is broken down into short modules, allowing you to easily follow the content. The modules are full of invaluable, to-the-point information and resources.

Practical advice
With a vast wealth of knowledge and experience, each video is filled with practical advice that you can implement, immediately.

Downloadable resources
Each course comes with downloadable resources including visual supports, slides, reflection tasks and other helpful resources. These will help support your learning and practice.

Support community
Ongoing support is offered through our comment boxes on each video.

Device compatible
Our courses can be completed on whatever your preferred device is, either via your browser or the Teachable app.
What Our Course Participants Have To Say...

"This is a lovely short course. I thoroughly enjoyed it. I have updated my knowledge on autism as well as learnt new information in relation to how we can support children to regulate their emotions"

"Fantastic course, I feel more confident and have some fantastic ideas and strategies to support the children I work with many thanks you're amazing"

"The way how Steph is explaining each chapter is very understandable and really helpful. I have learnt a lot especially about modelling feelings and strategies like jumping and showing visuals or say it, really helpful definitely will try it!"
Access the Course Content on Any Device and Any Time!​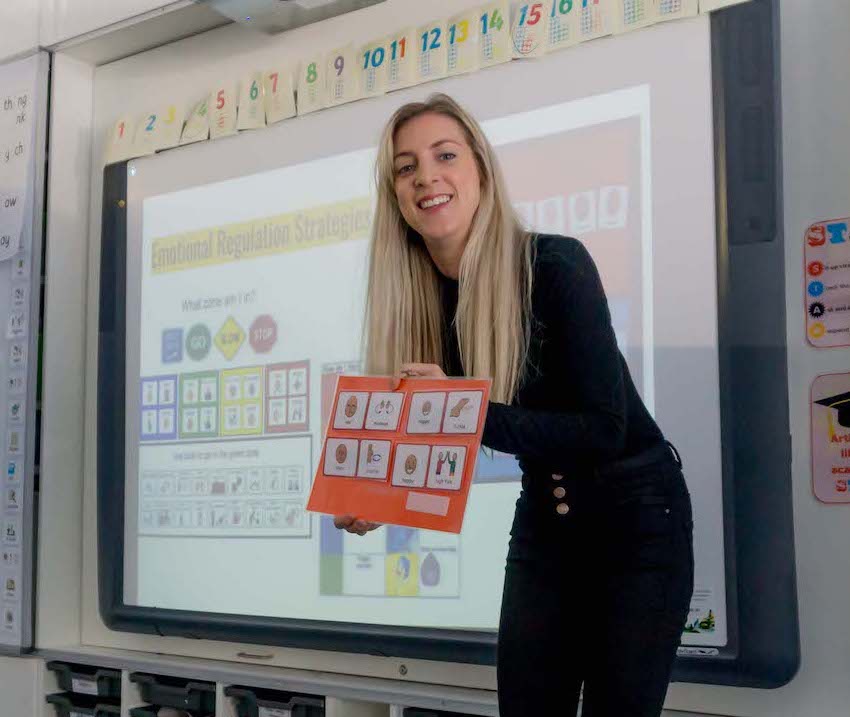 Hi I'm Steph Reed Your Teacher!
Over the past 12 years, I have taught many autistic children, with a wide variety of abilities and complex needs.
I am now a specialist teacher and consultant helping schools and services ensure high quality autism provision and practice, enabling children to achieve and maximise their potential.
I have tailored these online courses to give you accessible, and bite-size, background knowledge in evidence-based approaches, as well as the practical understanding and skills in how to implement strategies and importantly, ensure impact on learning.
For more information about the work I do, please visit www.autismspectrumteacher.com
Frequently Asked Questions
Who is this course for?
Teachers, teaching assistants, learning support assistants, educational professionals, SENCO's, trainees, parents, carers and anyone wanting to learn more about proactive ways of supporting behaviour and emotional regulation.
How will the course be taught?
The course will be taught through a series of videos, downloadable resources and reflection tasks. You will have a login and password to access the content and you can complete the course at your own pace.
How long will it take to complete?
Approximately 1 - 2 hours.
How long will I be able to access the content for?
You can access the content whenever you want!
Can I use the course videos and materials for training groups such as during an INSET day or staff meeting?
Yes! You can purchase a group training licence. Please email [email protected] for all group training orders.
What if I need support?
We are available to offer you support at any time during the course, just an email or phone call away!
Is there a money-back guarantee or refund option?
The courses are designed to give you valuable information and skills however, if you are not 100% satisfied with the course and let us know within 30 days of purchasing, you will receive a full refund.
This course can form part of your Continuous Professional Development (CPD).
Please share with your employer, as they may be able to fund your training.
A certificate will be issued upon full completion of the course.
"In the time that Steph has been working with my school, I have been able to see a sustained improvement in the provision offered. This has been the case in the growing knowledge and skills of the staff she has worked alongside, the physical environment provided for pupils with ASD and the outcomes for those pupils"
Jess Hutchison, Headteacher at Grazebrook Primary School