Are you unsure how to effectively meet the needs of different children? 
Would you like a 'toolkit' of practical ways to help children with diverse abilities learn?
This course will teach you inclusive strategies that will support the learning of diverse children, with or without special educational needs.


Supporting a range of needs in one class or group can be really challenging! However, having a variety of inclusive methods to draw upon and to adapt for individual needs, can help create positive and efficient learning experiences.


How do you know the best ways to support a child that will have the most impact?


Each and every child has their own interests, abilities and learning styles. Using our knowledge of children's individual strengths and needs, as well as having a range of inclusive teaching strategies help enhance a child's experience of learning.


To learn more, I invite you to enrol on this course
Essential Inclusive Practice
In this short course, you will be given a
'toolbox' of effective, inclusive strategies
designed to meet the array of different learning needs of children. 
You will learn
evidence-based methods and strategies
that you can
implement in your practice straight away. 
By reflecting on your current practice, I will guide you with ways to
adapt the strategies you use,
to suit the needs of the children you support. This will include exploring areas such as engagement, consistency, environment, learning outcomes and structure.  
What Our Course Participants Have to Say...
"A solid overview of best practices in inclusion - many new ideas to implement in my classroom next year."

"This was a fantastic opportunity for our team to come together and reflect on our inclusive practice; to discuss those things we are doing well and ways we could potentially develop our practice to further support the needs of our pupils. Since completing the course we have introduced a new communication board in the classroom, and are really pleased with the response from our pupils and how it is already supporting them with their functional language skills."

"Very informative and easy to understand new concepts that Steph is trying to get across and convey. Bravo Steph on making this course enjoyable."
Confidently use a range of inclusive teaching strategies
and enhance the learning of children with diverse needs


If you're not 100% satisfied with your purchase, let us know in 30 days and you'll get 100% of your payment back.
For discounted multiple purchases, group training licences and invoices, please contact 
This course can form part of your Continuous Professional Development (CPD).
Please share with your employer, as they may be able to fund your training.
A certificate will be issued upon full completion of the course.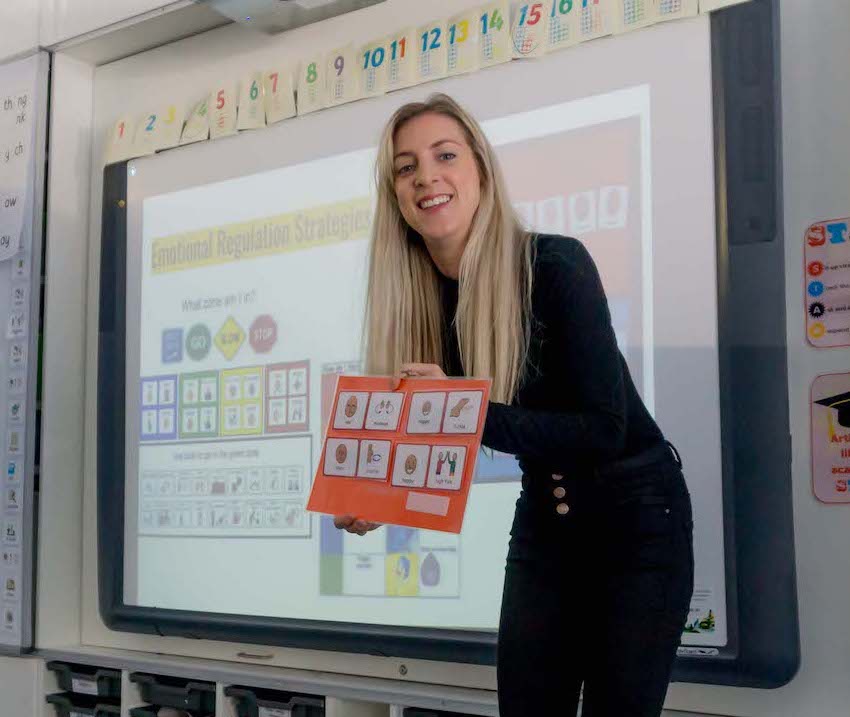 Hi I'm Steph Reed Your Teacher!
Over the past 12 years, I have taught many autistic children, with a wide variety of abilities and complex needs.
I am now a specialist teacher and consultant helping schools and services ensure high quality autism provision and practice, enabling children to achieve and maximise their potential.
I have tailored these online courses to give you accessible, and bite-size, background knowledge in evidence-based approaches, as well as the practical understanding and skills in how to implement strategies and importantly, ensure impact on learning.
For more information about the work I do, please visit www.autismspectrumteacher.com
Frequently Asked Questions


Who is this course for?
If you are involved in the education or teaching of children, then this course will be helpful for you! Teachers, teaching assistants, learning support assistants, educational professionals, SENCO's, early years educators, trainees, parents, carers and anyone wanting to learn inclusive, practical strategies and skills in supporting the learning of children with or without special educational needs.
How will the course be taught?
The course is taught through a series of videos, reflection tasks and downloadable resources. You will create a login and password to access the content at a time convenient to you and you can complete the course at your own pace.
How long will it take to complete?
Approximately 2 hours.


How long will I be able to access the content for?
You can access the content whenever you want!
Can I pay via invoice or purchase courses for multiple people?
Yes! Please email your order to [email protected]
Can I use the course videos and materials for training groups, such as during an INSET day or staff meeting?
Yes! You can purchase a group training licence. Please email [email protected] for all group training orders.


What if I need help or support?
Steph Reed (Autism Specialist) will be available to offer you support at any time during the course, just an email or phone call away!
Is there a money-back guarantee or refund option?
The courses are designed to give you valuable information and skills however, if you are not satisfied with the course and let me know within 30 days of purchasing, you will receive a full refund.
"In the time that Steph has been working with my school, I have been able to see a sustained improvement in the provision offered. This has been the case in the growing knowledge and skills of the staff she has worked alongside, the physical environment provided for pupils with ASD and the outcomes for those pupils"
Jess Hutchison, Headteacher at Grazebrook Primary School